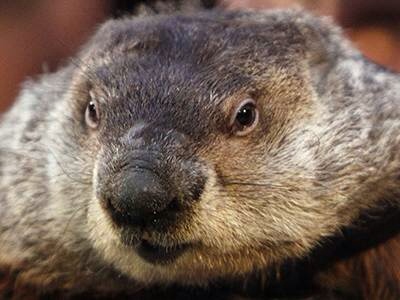 Punxsutawney Phil is set to make his famous groundhog forecast early Sunday, and after a winter like this one, more folks than usual may be hoping he doesn't see his shadow.
The Punxsutawney Groundhog Club expects about 20,000 people on hand for the event, executive director Katie Donald told The Associated Press. This is the first year that Groundhog Day coincides with the Super Bowl.
Update:
PUNXSUTAWNEY, Pa. — Punxsutawney Phil, most famous groundhog in history, emerged from his burrow early Sunday morning and with the help of his handlers declared that he saw his shadow.
The Groundhog Day prediction means six more weeks of winter.
Phil made his weather prediction just before 7:30 a.m. in front of thousands of onlookers at Gobbler's Knob in the tiny western Pennsylvania town of Punxsutawney, about 65 miles northeast of Pittsburgh.
The Groundhog Day celebration is rooted in a German superstition that says if a hibernating animal casts a shadow on Feb. 2, the Christian holiday of Candlemas, winter will last another six weeks. If no shadow is seen, legend says, spring will come early.
Phil has not seen his shadow just 17 times since 1886, according to incomplete records kept by the Groundhog Club's Inner Circle, which is responsible for caring for the groundhog and putting on the annual ceremony.
Last year, Phil did not see his shadow.
The accuracy of the groundhog's predictions, however, has long been debated.
Interest in the holiday has soared in the last two decades thanks largely to the 1993 Bill Murray comedy "Groundhog Day," in which a weatherman becomes trapped reliving the holiday again and again.
Crowds at the event have grown from a few thousand before the movie came out to tens of thousands after.